SCT displayed professionalism and extended utmost cooperation to the project team throughout the project. SCT was very much a team player and collaborated closely with our Project Manager and our Consultants throughout the project without any major issues. SCT also demonstrated good control of your domestic and nominated subcontractors and this helped ensure the smooth progress of the Project.
Grace Baptist Church
We appreciate the cooperation and good service provided by your project team in completing the project satisfactorily and the executing the follow-up enchancement and additional work.
BW Monastery
We wish to thank and commend SCT Construction Pte. Ltd for their professional, efficient and timely completion of our church building redevelopment project.
Zion Bishan Bible-Presbyterian Church
We would like to commend on the professionalism and good service provided by your project team in sensitively restoring and carefully repairing these properties to help the preservation of the historical and architectural heritage value. Thank you for the good work.
Singapore Land Authority
Grace Baptist Church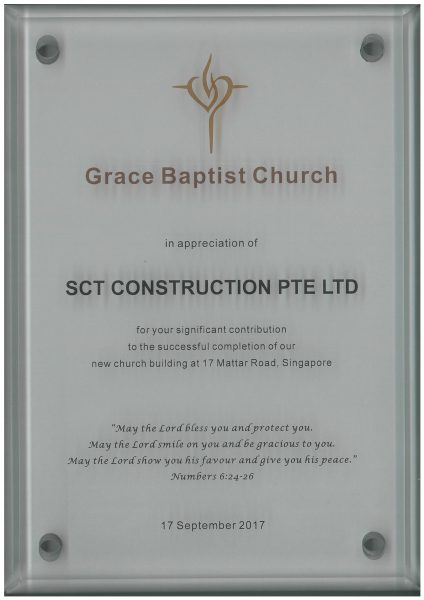 BW Monastery